Paul Canon Harris is a published writer who often reflects on issues of war and peace in his poetry. In this poem, inspired by the true story of his Aunt and her father, Paul tells the story of a soldier, Cyril Roderick Harold Park, who returned from the war sporting a poignant tattoo. His wife may have hated it, but his daughter found it fascinating.
The Back of his Hand
He was a peaceable man as a rule
kind, considerate, never cruel.
He kept his counsel unless asked,
what was done was done,
consigned to the past.
He seldom talked about the war,
things he did, things he saw.
One memento our mother detested,
something he kept on show
despite how much she protested.
On the back of his hand he carried a mark,
dark and deliberate, not done for a lark.
A tattoo ingrained there for life,
"Never again" it read,
important to him, less so for his wife.
Below the words with wings outstretched
a dove of peace, roughly etched.
An olive leaf caught my childish eye,
loosely held in its' beak,
destined I thought to drop from the sky.
Some nights at bed-time I'd beg to trace
the bird while studying his impassive face.
I'd follow the outline with my finger
instinctively silent
sensing his memory had chosen to linger.
He never mentioned the names of the men,
not even George, his schoolboy friend.
The fallen, the maimed, the left behind
I could tell
were never far from his mind.
I wear a poppy now as a mark of respect,
it's the very least he'd expect.
Subsequent wars were a bitter regret;
Never again!
an aspiration lest we forget.
Cyril with his Grand-daughter Clare Park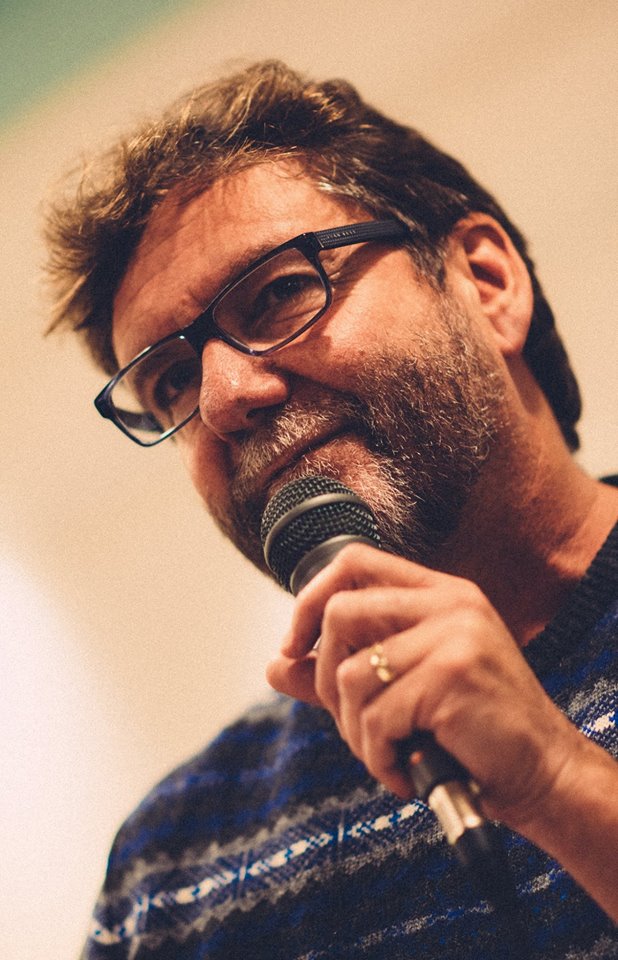 Paul Canon Harris is a poet, writer and broadcaster who regularly broadcasts on BBC Radio 2 and other stations.  He writes about everyday life drawing on his brief experience as a police officer and long years as an Anglican priest.  Paul performs poetry regularly at literary events and festivals throughout the UK and abroad.
His interests include sport and comedy.  He can be found most mornings walking his dog Hope on Bournemouth beaches. Paul is married to Catherine.  They have four adult sons and eight grandchildren spread across the world.
Forgotten Things, his second collection of poetry is published by Kevin Mayhew Publishing in Spring 2016.
Chapter & Verse, a collection of radio reflections is published by Kevin Mayhew Publishing in Spring 2016
Overturning Tables – Subversive poems for Christian worship"- is published by Kevin Mayhew
For more information on his work visit; www.paulcanonharris.org