APF Grants
An important part of the work of the APF is funding peacemaking projects around the Anglican Communion. The following projects are currently receiving grants from the APF.
Peace Footballs: A scheme to provide footballs with peace messages for peace education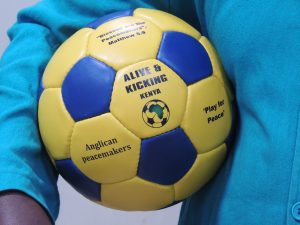 work with young people in Kenya, Zimbabwe and South Sudan.
Nine years ago, a group of APF members in Kenya were working with young people following the violence of 2008.  Sport is always a good way to initially engage young people, and so, working with the charity Alive and Kicking, their Nairobi workshop designed a 'peace football'.  This is a high-quality leather ball which can last longer on the dirt pitches most football is played on in Africa.  Quoting Matthew 5.9 "Blessed are the peacemakers", the balls have played a part in getting young people together and learning about 'keeping peace' in difficult situations.
APF projects have used them in a few countries and now our Kenyan members are planning a series of 'Peace Tournaments' in 2020. It is the aim of these activities to bring young people from different ethnic groups together and so learn more about each other and avert conflicts. You can donate directly towards the Peace Football Appeal here
Peacekeeping Training in Burundi, preparing parish council members for their role in keeping and building peace in their communities.
Peacebuilding training, through a 'Behavioural Change Project' based in Cueibet, South Sudan. You can read an update on this project here.

Bishop Elijah in Cueibet
Peacebuilding via the Cooperative Games Programme in Scottish Primary Schools, delivered by the Edinburgh Peace and Justice Centre, UK. You can find out more about this project here.
The Faith and Peace Project working with women from across faith communities in the Bradford area, exploring community peace building. Using textile art as a focus, a travelling exhibition has been developed around various group projects celebrating the role of peace and peacemakers in the three Abrahamic faiths. This is being developed and delivered by the Bradford Peace Museum, UK.


Examples of the textile work created by the Faith and Peace Project in Bradford
The Wilson/Hinkes Peace Prize –  awarded to people engaged in grassroots peacemaking work. The 2019 winner will be announced at the Week of Prayer for World Peace Service in October. See Diary page.
Previous grants made by APF:
In 2018, we helped to fund the production of a revised copy of 'Teach Peace' a schools education pack, produced by the Peace Education Network. We also supported women's community peace training delivered by South Sudan Community Change Agency (SOSUCCA).
Applying for an APF Grant
APF, an Anglican organisation, has a limited remit with a small fund to help peacemaking by providing members, both in war and peace, with opportunities for applying the Christian faith by relieving suffering.
If you wish to apply for a grant, in not more than two pages, explain how your project will contribute towards one or more of the APF's aims to promote peace education or expand peacemaking in an area of the world.
Include what will be the impact of your project. How it will be delivered, measured and expected outcomes over what timescales. When will the project start and what funds are required?
To apply please email Tilly Martin at enquiries or write to her at the address on the site's contact page.