Current Projects
Peace Footballs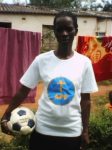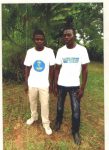 A scheme to provide branded footballs to communities in Africa and other countries who have little resources. Youth groups in Zimbabwe encouraged to learn peaceful ways with competitive games.
Contact Sue Claydon, ViceChair for further details.
Peace Footballs in Zimbabwe
 Week of Prayer for Word Peace
The sum of £500 was given by APF to the Week of Prayer for World Peace to sponsor the annual Wilson/Hinkes Peace Prize. Awarded October 2016 to Keith Scott of Woking, Surrey. Further details will come shortly.
Grants
APF, an Anglican organisation, has a limited remit with a small fund to help peacemaking by providing members, both in war and peace, with opportunities for applying the Christian faith by relieving suffering.
If you wish to apply for a grant, in not more than two pages, explain how your project will contribute towards one or more of the APF's aims to promote peace education or expand peacemaking in an area of the world.
Include what will be the impact of your project. How it will be delivered, measured and expected outcomes over what timescales. When will the project start and what funds are required?
To apply please email Tilly Martin at enquiries or write to her at the address on the site's contact page.