Why did God choose Mary, a stable and all the suffering and risk that the birth of Jesus came with?
The answer can be found in the air conditioned suite at St Mary's Hospital London

The Risk
There is another royal birth on the way and Princess Kate can expect it to be the safest and easiest of all her births. Not that any birth should be called easy.  Her previous births have been at St. Mary's Hospital London in their private wing. A very far cry from the birth experience of St. Mary herself, and Kate and many others can be thankful for that.
God planned Mary's pregnancy and, as a thousand years are but one in His sight, one could well wonder why He didn't wait another 2,000 years until Mary's pregnancy and delivery could be as safe and comfortable as Kates will be. Except for the planned part, Mary's circumstances tick all the boxes for a high risk pregnancy. Even by the standards of her time, she and her baby were at greater risk than most of her contemporaries.  As a former obstetrician if I had advised a pregnancy in a 13 year old in Mary's circumstances I would have been censured and ordered to re-train or retire.
So why did God send the angel Gabriel at that specific time to seek permission to use Mary's womb? Could Gabriel not have been sent to a wealthy married mother in her thirties having her third child? For me the answer lies in that air conditioned delivery suite at St Mary's  hospital.
The Reason
Kate will have her husband and midwife and doctor with her in the delivery suite.  Behind the scenes there will be a highly skilled surgeon, anaesthetist and epidural expert, a neo-natologist, midwives, nurses, cross-matched blood and other intravenous infusions, all at the ready, just in case the unexpected happens.
That was not the experience of Mary who was forced to labour in a tetanus laden stable as there was no room in the living quarters upstairs. Away from home there was only Joseph, and maybe a kind stranger, to assist as Jesus emerged onto the well manured floor.
Each hour 15,000 babies are born into the world and many of those parents would have an experience nearer to that of Mary than that of Kate. Of those who may hear of Kate's experience when it happens, some would wish that for themselves, some would be just pleased for her, some might envy her, some may be downright angry that so much resource is spent on one safe low risk birth.
Many other babies still face a 5% perinatal mortality ( NZ 0.3%) for the millennial goal of safe childbirth has not been achieved with so many armies and too many conflicts preventing its' implementation. So I would doubt if many of Kate's birthing sisters can really relate to her experience.
However even the most vulnerable and disadvantaged parents can relate to Joseph and Mary and their baby. That identification is important for God in Jesus has come to be with us. And if he is to include all of us and not just a privileged few  then he must identify with the vulnerable and disadvantaged as well as those more fortunate.
So I can see a reason for that high risk pregnancy and birth. With the royal birth of Jesus his subversive form of Kingship is already appearing. By the usual standards of kingship the birth  should have been in a palace not a stable, he should have ridden into Jerusalem on a horse not a donkey, his crown should have been of gold not thorns and his throne an ornate chair not a shameful cross. So in the light of his later life he didn't have to wait 2,000 years for the efficient luxury of St. Mary's Hospital before turning the world upside down.
The Result 
I don't find these birth stories comfortable or cozy . They are full of risk and pain and discomfort, and required every ounce of determination, obedience and courage from Joseph and Mary. They gave their all as they became God's plan to rescue His world. But despite the pain and difficulties what joy for them when they heard that first cry, what joy as they laid Jesus in the manger.
And much later what joy when another Mary met the risen Christ in a garden.
Thus, through suffering and hardship the Word is made flesh and dwells amongst us.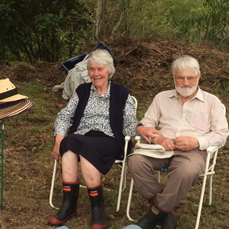 Contributed by APF Member, Jonathan Hartfield – Grew up in Hastings UK. Trained at St.Georges Hospital. Had an exciting and turbulent time in Nigeria in 60s. Moved to NZ 1971. Worked as specialist Obst &Gyn, later palliative care in a Hospice. Retired from medicine 2013. Ordained priest 1986. We have 4 children 9 grand children. Enthusiastic gardener and choir singer.