For decades I'd struggled to understand how army chaplains on both sides could invoke God's blessing on soldiers going into battle. In the 1990s I was shocked to learn that US clergymen were saying prayers over cruise missiles coming off the production line.  Even more mind boggling though was news that Westminster Abbey would be hosting "a national service of thanksgiving for 50 years of submarine-based nuclear weapons".
The headline on CND's Facebook page was enough to stir my commitment: "No thanksgiving for nuclear weapons at Westminster Abbey…Voice your opposition to this morally repugnant event."  Signing the petition was not going to be enough.
Whilst sitting on the train heading towards Paddington my thoughts turned to the basics of deterrence.  Even if nuclear deterrence could somehow be proven to work, what kind of peace would it be if two supposed enemies spent 50 years pointing guns at one another's heads? Surely, that's not the "shalom" that Jesus Christ inaugurated.  Of course, British submariners would argue they are so highly trained and have such reliable systems that launching Trident missiles (mass murder) would only ever be committed when properly authorised and as a last resort.  However, what they forget to mention is human error.  There's been numerous near miss incidents; not least a computer glitch on 26th September 1983 that could have ended the world had it not been for the courage of Stanislav Petrovby disobeying orders.  According to General Lee Butler, former commander in chief, US Strategic Command: "We have escaped a nuclear holocaust so far by some combination of skill, luck and divine intervention.  Our Creator has given us a second chance to get it right. There is no guarantee of a third chance."
It was only on arrival outside Westminster Abbey that my questioning really got started.  The Abbey's original invitations had been to a "National Service of Thanksgiving to mark 50 years of the Continuous at Sea Deterrent (CASD)" but now after hundreds of protest letters the Abbey's Dean would only be "…givingthanks for all the thousands of people who have designed, built, supported and crewed the submarines during these past fifty years."How could the service thank God for these people without condemning their weapons?
By 11.15am several hundred protestors and tourists were on the pavement across the road from the Abbey.  Some were carrying banners but most were just standing around. Whatever was I to make of certain unusual characters…  like the guy dressed in Irish costume, wearing shorts, bearing a star of David and playing loud music from a "ghetto blaster".  His placards made no sense to me at all.  He kept on gradually turning up the volume which caused so much discomfort that soon hardly anyone was left nearby.  I chose to remain there holding the CCND logo over the crowd control barrier.  Then there was another gentleman wandering around in a bowler hat, wearing what looked like a red dressing gown and talking to his puppets.  I wondered who if anyone was coordinating the five participating peace groups? There were lots of policemen and women around all wearing yellow jackets which felt quite reassuring.
At about 11.45am a bearded guy with a loudhailer invited people to lay down on the pavement to represent the victims of nuclear weapons.  I waited in vain for news of the Christian vigil organised by CCND.  At 11.55am Prince William arrived to shouts of "Shame on you" but I didn't feel like joining in.  Instead I asked the guy with the loudhailer "where's the Christian worship happening".  He thanked me for pointing out this oversight and then he announced to everyone that the Christian CND service was being held 100 yards away on a street corner.  I wondered why this location hadn't been identified beforehand?
Sure enough a crowd had gathered where a big blue banner had a quote from Jesus words in the Garden of Gethsemane "Put your sword back into its place; for all who take the sword will perish by the sword" (Matthew 26: 52). I shuffled along the pavement being careful not to step on people involved with the "Die In".   By now the service was underway.  Bruce Kent was saying something important but could hardly be heard because of all the traffic noise.  It was disappointing that the organisers hadn't foreseen the need for amplification but fortunately I managed to get close enough to hear the rest of the service.
Someone read out a really encouraging message of support from the Revd Canon Paul Paul Oestreicher ex Canon at Coventry Cathedral and currently in New Zealand.  The next person to speak was a Roman Catholic priest followed by a reading Romans 12:9-21on "Marks of the true Christian." It was an ideal passage for this service.  Someone else stepped forward to lead intercessions: seeking God's forgiveness for ever making nuclear weapons; asking to learn from Hiroshima and Nagasaki; appealing for God's forgiveness for human insanity; and asking for courage to do the right things from now on.
There was another Bible reading and more prayers along the lines of us being an Easter people, proclaiming Jesus victory over sin, death and evil; with God no situation is too hopeless; and finally, a plea all for the nine nuclear nations to disarm.  We closed by everyone saying the Lord's Prayer followed by a prayer of Blessing.
Just before dispersing someone organised a group photo. Clergy were asked to stand at the front and somehow I ended alongside of Bruce Kent.  It was a once in a lifetime opportunity for me to thank him for leading the Christian peace movement over several decades.  In characteristic style he made light of it.
Later back on the train heading for home I wondered what kind of service the Dean had organised inside the Abbey?  It would have been interesting to compare it with CCND's order of service.  Of course, the Abbey had some hymn singing; we did not.  The Abbey would have had a different kind of sermon; more politically correct!  I also wondered how the Abbey service could be called a "National Service of Thanksgiving to mark 50 years etc" when closed to the public or (as far as I know) broadcast on radio or television?  Having gone this far, I wondered how much further the CofE would lean towards endorsing weapons of mass destruction… may be a chalice bearing a label: "sponsored by BAE Systems Submarine Solutions" – God forbid!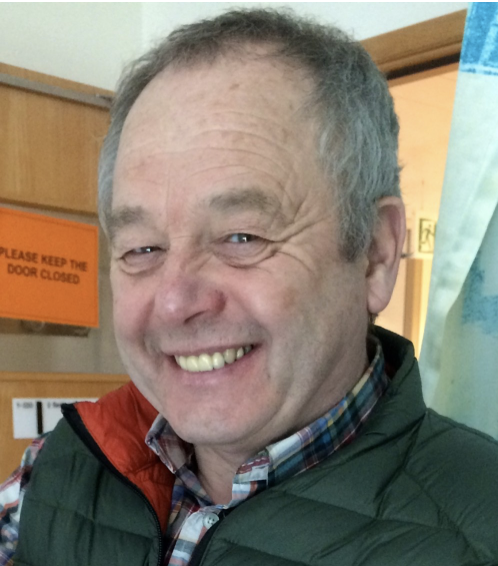 Contributed by Arthur Champion who serves as a vicar in the Cotswolds.  Previously he was employed for 30 years as health, safety and environmental manager for a multinational insurance company.  He is a member of Christian CND. 
Disclaimer: This blog is intended to provide a space for people associated with APF to express their own personal views and opinions in order to promote discussion of issues relating to peacemaking and pacifism  It is not necessarily a place where the official views of APF are expressed.