On Thursday we commemorated the 75th Anniversary of the bombings of Hiroshima and Nagasaki with an online vigil broadcast around the world. The event featured reflections, poetry and songs from APF members and dignitaries. You can watch a full recording of the vigil here; https://youtu.be/HUJlu6BNQMg
This is one reflection from APF Trustee Geoff Smith that was featured in the vigil;
Father forgive them for they know not what they do, said Jesus on the cross.
The thing is they did know what they were doing. The bomb was dropped in full knowledge of the consequences. But even so God's forgiveness can still be there.
Although with forgiveness must come some attempt not to do the thing forgiven again. So all we can do is to make sure this never does happen again, that is to heed Christ's command to love our enemies. It is incumbent on us as Christian peacemakers therefore to plant the message of peace in people's hearts, the message that war is something they do not want or need.
And amazingly there have been examples of Christian forgiveness even by the victims of Hiroshima.
Takeshi Tanemori was one of the few survivors of that day. He lost both of his parents and two sisters. As a young boy he became a street urchin who struggled to stay alive by searching for food in rubbish bins in what was for many the poverty of post war Japan.
He took an oath to avenge his family's deaths and at 18 emigrated to the USA. But due to the interest someone there showed in his well being he was inspired to pursue a life serving others through Christianity.
He eventually became a Christian minister but still found it hard to reconcile this with his experience of Hiroshima.
But while crossing the San Francisco Bay Bridge one morning in 1985 he had a moment of sudden inspiration which led him to reject his vow of revenge and instead devote himself to fostering forgiveness. He set himself a lifetime goal of helping future generations live in peace with harmony and equality. He spent the rest of his life trying to defeat what he saw as mankind's greatest enemies, fear and the hatred that darkens human hearts. Those things which lead to wars in the first place. He founded a Peace Institute dedicated to international peace; he has fostered forgiveness and helped others overcome barriers to it.
And as well as showing forgiveness that story also shows the other side of the Christian message, love, and how Christian love can transform even those who have emerged from being victims of the darkest acts of humanity.
And as Christians we have the surety that even against the background of Hiroshima that love of Christ is still victorious. Whatever weapons humanity develops, however powerful, they will never beat that love. As Paul says in Romans nothing is able to separate us from the love of God, which is in Christ Jesus our Lord. Jesus dying on the cross and rising again from the dead to defeat the evil which humankind is capable of doing and has done shows the victory of that love. He has suffered as did the victims of Hiroshima. But after that agony through the resurrection His victory over suffering.
So the message on this Hiroshima Day should be one of love and forgiveness. Which, if only the world as a whole heeded, would remove the need for war and all its weapons for ever. And how that message could change this world, not just making it more peaceful but enabling it to divert resources to ensure everybody had enough to eat and healthcare they can rely on instead of having weapons.
However horrible the things human beings can do to each other may be, the love and forgiveness of Christ is still there and is more powerful than anything else in the world and itself cannot be overcome by anything else in the world.
That message and the peace which results from it is the one we must take forward on Hiroshima Day and on any other day when we remember the victims of war.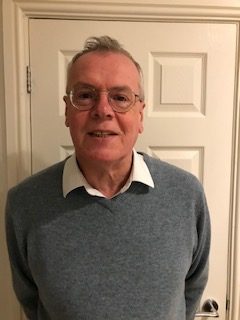 Geoff Smith is a Reader in the Church in Wales and lives in Cardiff. He believes there is so much that the Anglican Church and other Christian Churches can do to help resolve conflicts in the world, both at national and local level. There are many ways in which, motivated by our following of Jesus Christ, we can use our influence and support peace initiatives everywhere. The tragedy and horror of armed conflict has been seen in the past and is still being seen all too often everywhere. As Christians I feel it is our duty to try to do all we can to prevent such events
Disclaimer: This blog is intended to provide a space for people associated with APF to express their own personal views and opinions in order to promote discussion of issues relating to peacemaking and pacifism. It is not necessarily a place where the official views of APF are expressed. The views expressed in this blog are the personal views of Geoff Smith.