Were our Churches still to have been open I would have been preaching about the raising of Lazarus on Passion Sunday 29 March. I was really looking forward to sharing the message of this story from the pulpit. To me, next to the Easter Day Resurrection accounts, this must be one of the most thrilling passages in the Gospels, this amazing story of Jesus beating death in the face and raising Lazarus from the dead.
'If only you had been there my brother would not have died.'
That's what Mary and Martha said to Jesus when he finally got to Bethany two days after he was told that Lazarus was dangerously ill.
Where were you when you were needed, she is saying, why weren't you here?
And people may well be asking that question today.
They may ask it at any time they see war and suffering in the world, but particularly now in the middle of the Coronavirus Pandemic and all the grief and fear that it is bringing.
In the story Jesus waits two days to go to Lazarus. He says He was glad He was not there when he died, which must have seemed an odd thing to his hearers, but they did not realise that His not being there would give them the opportunity of seeing an amazing miracle.
And that is just what they do see. Jesus commands Lazarus to come out of the tomb and he does.
In the grief of Mary and Martha Jesus feels the misery of the human race. That's probably why He wept. He is not remote from the sufferings of His fellow humans.
In the same way He is not remote from our sufferings whether they are through this latest virus or, more commonly, through violence and war.
We likewise may have to wait for a solution to the Coronavirus Pandemic, but one will come. A vaccine or a medication, measures put in place to stop it spreading finally working as they are planned to do, numbers of people affected starting to go down instead of continually up.
And during that time let us pray that the waiting will give us the opportunity of seeing the world changed for the better when we come out of it, in the same way as Mary and Martha's wait changed their world for the better through the miracle of Lazarus being raised.
Even now we do see hopeful signs. For a while at least countries are united in the fight against this terrible disease rather than the fight against each other. Armies are being used for the medical, engineering and transport skills they possess to help people.
Bravery and selflessness are being shown by those trying to fight the disease. Both here in the UK and in the refugee camps in Syria and Turkey which still remind us of the horrors of war and how vulnerable its victims are.
As with Jesus coming to raise Lazarus from the dead and the new hope that provided, let us hope that when all this is over, which it will be eventually, our priories will have changed.
Coronavirus is a terrible thing.
But before this outbreak it was already true that 25,000 people worldwide died of hunger every day.
And that so far this century it is estimated that 800,000 people have died in wars in different parts of the world.
All of the war and hunger related deaths would have been preventable if the focus and resources now being put into trying to beat the Coronavirus outbreak had been put into fighting hunger, and into the effort and cooperation needed to make peace.
There are no limits to the possibilities of God's power.  If through Jesus Christ God could work the miracle of the raising of Lazarus from the dead, He can work such a miracle of change through the whole of humanity's situation today. Even though it may seem He withholds Himself from immediate attendance, His love is still there and He will still bring solutions.
Let us hope and pray that God will work through us through this crisis to bring to an end to those things that also take such a toll on humanity.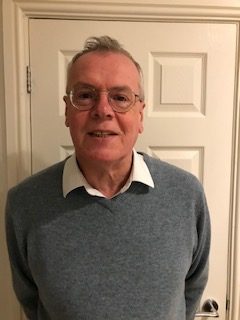 Geoff Smith is a Reader in the Church in Wales and lives in Cardiff. He believes there is so much that the Anglican Church and other Christian Churches can do to help resolve conflicts in the world, both at national and local level. There are many ways in which, motivated by our following of Jesus Christ, we can use our influence and support peace initiatives everywhere. The tragedy and horror of armed conflict has been seen in the past and is still being seen all too often everywhere. As Christians I feel it is our duty to try to do all we can to prevent such events
Disclaimer: This blog is intended to provide a space for people associated with APF to express their own personal views and opinions in order to promote discussion of issues relating to peacemaking and pacifism. It is not necessarily a place where the official views of APF are expressed. The views expressed in this blog are the personal views of Geoff Smith.