It is integral as we debate the ethics of Nuclear Weapons that we remember that they are different from 'conventional' weapons because of the long term affects of radiation.
As an ex obstetrician I think of the uranium tipped bullets and shells used in Iraq. A small amount of radiation compared with a bomb, but enough to get into the dust, earth and food chain, causing fetal abnormalities from mothers who have taken in such poison. For those abnormal babies that packed the hospitals there was a lifetime of innocent suffering ahead. The lucky ones died.
I think of my student friend who was at the Christmas Island tests during  his time of national service. He died 10 years ago of a rare leukaemia thought to be a result of the radiation ( The US army paid for some of his drugs).
So Nuclear warfare is different, as those who survive the first blast are never freed from it's consequences. They live on with death now resident in their cells. An unwelcome guest who stealthily destroys their host by corrupting the basic processes of life and bringing death by abnormal division. The damage can even spread into the next generation through genetic mutation.
So when we consider the ethics of Nuclear Warfare, we must remember that this will never just be a weapon in the present, but will have deeply damaging implications for future generations. This is a bomb which effectively keeps exploading! 
So we must ask ourselves, if any innocent life is irreparably damaged for the rest of their life, as well as those into the next generation, how could that ever be deemed ethically tenable?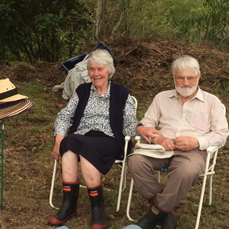 Contributed by APF Member, Jonathan Hartfield – I Grew up in Hastings UK. Trained at St.Georges Hospital. Had an exciting and turbulent time in Nigeria in 60s. Moved to NZ in 1971. Worked as specialist in Obst &Gyn and later in palliative care in a Hospice. Retired from medicine in 2013. Ordained priest in 1986. I have 4 children 9 grand children. I am an enthusiastic gardener and a choir singer.
Disclaimer: This blog is intended to provide a space for people associated with APF to express their own personal views and opinions in order to promote discussion of issues relating to peacemaking and pacifism  It is not necessarily a place where the official views of APF are expressed.