APF is funding (with the help of another Trust) a 'Behavioral Change' Project in the Diocese of Cueibet in South Sudan over two years.  Currently in South Sudan a fragile peace agreement is holding.  Bishop Elijah recently reported on some work done under this project.  A brief report is given here along with photos that reflect the people involved.
Part of the Project included organizing an outreach Mission to the deep villages and cattle-camps near to these villages. This area in the North of the Diocese is very remote and the roads are often inaccessible.  Between the 15 January and 2 February 2019, Bishop Elijah and his team (which includes young people and women) visited 10 areas.
The purpose of this visit was:
– To train chiefs, goal-leaders and community elders on how to be an advocate on behalf of their people.
-To train pastors as counsellors to present peace messages on Sunday services in the churches
-To train peer educators on how to composes peace songs, these songs will include church song with confession, forgiveness  and reconciliation
During the visits meetings were held with chiefs, soldiers (who are disarming), young people and women to listen to concerns and discuss actions and to pray for peace.
  Prayers for Peace
It was clear that issues such as the recent fighting have left people fearful.  There are also problems with lack of safe water.
Fighting between two communities started during the fifth day of the visit and the team were able to help the police to resolve the issue and for the fighting to stop.
This is a long term project but by being able to get to the area (the Bishop had to go most places on a boda-boda [motorcycle] work to help people change their behavior and promote peace is happening and bringing hope to many.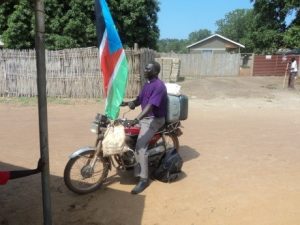 Bishop Elijah