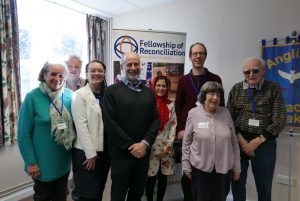 Pathways to Peace Conference, March 2019
In March we gathered in Leeds for a conference with a focus on challenging the military mindset and finding alternative pathways to peace.  We heard from a wide range of speakers over three days.
On the first evening Professor Paul Rogers, Emeritus Professor of Peace Studies at the University of Bradford spoke on "Hope in Troubled Times", He gave an overview of the three key challenges facing humanity at this time: economic injustice, climate change, lack of security. And then expanded on how these can be addressed, reminding us that "prophecy is suggesting the possible".  Janet Fenton, Vice Chair of Scottish CND presented on the dangers and threats of Nuclear Weapons. On Saturday, the day started with a reflection led by Rev Alastair Mckay on 'Pointing the Finger'.  We heard from Rev Dan Woodhouse (Woody) about his experience of being an activist.  He also took a biblical look at how Jesus provides a model for engaging in activism. Starting with debate and conversation, Jesus frequently engages religious authorities in dialogue, often using parables to illustrate his points. If debate doesn't work, Jesus uses protest to challenge those in authority, for example the Triumphal entry was a direct challenge to Roman rulers as He rode into Jerusalem in a kingly way.  Moving on from protest, Jesus at times undertakes civil disobedience by choosing to break to the law, when the law is not helping to make society a better place.  And finally, Jesus engages in nonviolent direct action when he clears the temple courts and expels the money changers.
We were fortunate to have two Rotary Peace Fellows, Elaheh Pooyandeh and Camillia Taylor giving presentations on their involvement with peacebuilding in Zambia and Iran.  Later on, Fabian Hamilton MP, Shadow Minister for Peace and Disarmament, spoke about his development of Labour's Peace Doctrine.  Peace is a public good and Labour would formulate a new approach where government departments focus on peace.
Workshops offered opportunities to develop skills in engaging with the Media, and nonviolent approaches for navigating conflict.  A creative workshop on poetry offered an alternative way of understanding peace through poems and creative writing.
On Sunday morning, Janet Fenton, Vice Chair of Scottish CND, led an uplifting session where we were invited to reflect on where we are now, where we would like to get to and how to respond to the challenges that lie ahead.  The weekend was punctuated by opportunities to worship in the Chapel, led by different denominations.
All in all, the conference offered plenty of food for thought, nourishing fellowship and inspiration for what each of us could do as we walk the Pathway to Peace.
Read more about some of the talks:
And see photos from the weekend.
Find out more about the organisations behind the conference:
United Reformed Church Peace Fellowship